Read on to get a general overview of the Revolution or Click on any of the areas to the right hand side to get more information
—————————————————————————————–
Timeline: United States of America before Independence
A chronology of key events:
1565 – First permanent European settlement in North America – St Augustine, present-day Florida – founded by the Spanish. North America is already inhabited by several distinct groups of people, who go into decline following the arrival of settlers.
| | |
| --- | --- |
| | Revolution: The Continental Army fought against British rule |
1607 – Jamestown, Virginia, founded by English settlers, who begin growing tobacco.
1620 – Plymouth Colony, near Cape Cod, is founded by the Pilgrim Fathers, whose example is followed by other English Puritans in New England.
17th-18th centuries – Hundreds of thousands of Africans brought over and sold into slavery to work on cotton and tobacco plantations.
1763 – Britain gains control of territory up to the Mississippi river following victory over France in Seven Years' War.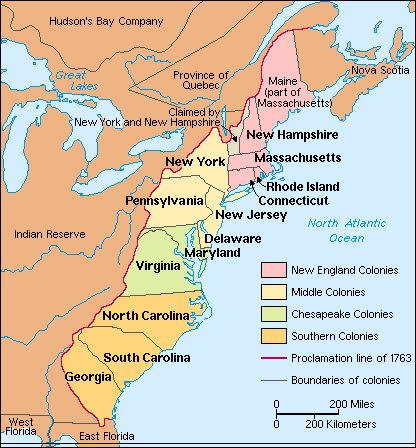 War of Independence
1774 – Colonists form First Continental Congress as Britain closes down Boston harbour and deploys troops in Massachusetts.
1775 – American Revolution: George Washington leads colonist Continental Army to fight against British rule.
1776 4 July – Thomas Jefferson's American Declaration of Independence endorsed by Congress; colonies declare independence.
………………………………………………………………………………………………………………………………………………………………………………………………
History@Banagher College, Coláiste na Sionna.

The URI to TrackBack this entry is: http://teachnet.eu/tobrien/about/revolutions/the-american-revolution/trackback/
on May 7, 2010 at 5:16 pm » J.C. HISTORY@Banagher College, Coláiste na Sionna Junior Cert History Blog Said:

[…] out more about the revolutionary period  in America, France and Ireland Published […]