This content was created/compiled by Philip Moran.

In Brief:
James Napper Tandy was one of the founding members of the Dublin branch of the United Irishmen. Inspired by the French Revolution, he had been involved in several groups who argued that strong action was needed to create a fairer society in Ireland. In 1793, he was accused by the British of sedition (trying to start a rebellion) and fled to America and then France where he later became a general. The French gave him a ship and a small number of men and he arrived in Donegal in September 1978 hoping to restart the rebellion that had ended two months before. Unfortunately he soon discovered that the French and Irish force led by General Humbert, having had a big success at 'the Races of Castlebar', had then been forced to surrender to the British General Cornwallis, after 9,000 French Reinforcements failed to arrive.  Napper Tandy retreated around Scotland and headed towards France but was captured at Hamburg. He remained in prison in Ireland until April 1801 when he was tried, pleaded guilty and was sentenced to death. After pressure from France where he remained popular – and from Napoleon in particular – he was reprieved and returned to France where he continued to be highly respected, up to his well attended funeral following his death on August 24th, 1803.
______________________________________________________________________________________________________________
The life of James Napper Tandy to the music of 'The Wearing of the Green.'
[youtube]http://www.youtube.com/watch?v=UQWiC9OUuuc[/youtube]
______________________________________________________________________________________________________________
More Information:

Early life
A Dublin Protestant and the son of an ironmonger, Tandy went to the famous Quaker boarding school in Ballitore, south
He started life as a small tradesman. Turning to politics, he became a member of Dublin Corporation.He became a member of the Whig club

founded by Henry Grattan; and he actively co-operated with Theobald Wolfe Tone in founding the Society of the United Irishmen in 1791, of which he became the first secretary.
Planning A Revolution
Tandy also, with the purpose of bringing about a union between the Defenders and the United Irishmen, took the oath of the Defenders, a Roman Catholic society whose agrarian and political violence had been increasing for several years. But being threatened with prosecution for this step, and also for libel. One way he used to avoid prosecution was to change his Dublin address often – including at Dorset Street, Abbey Street and Bride Street. In 1795, he  fled to the United States, where he remained till 1798. In February 1798 he went to Paris, where at this time a number of Irish refugees, the most prominent of whom was Wolfe Tone, were assembled, planning rebellion in Ireland to be supported by a French invasion, and quarrelling among themselves.
Return to Ireland
Tandy accepted the offer of a corvette, the Anacreon, from the French government and sailed from Dunkirk accompanied by a few United Irishmen, a small force of men and a considerable quantity of arms and ammunition for distribution in Ireland. He arrived at the isle of Arran more, off the coast of County Donegal, on September 16, 1798.
The locality however, was sparsely populated and showed little enthusiasm in joining with the expedition. Tandy took possession of the village of Rutland, where he hoisted an Irish flag and issued a proclamation; but learning the defeat of Humbert's expedition, and that Connaught was now subdued, the futility (uselessness) of the enterprise was soon clear to him. Tandy sailed his vessel around the north of Scotland to avoid the British fleet. He reached Bergen in safety having brought with him a British ship captured along the way.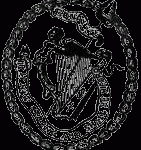 Tandy then made his way with three or four companions to the free port of Hamburg but a peremptory demand (arrest warrant) from the British government to detain the fugitives was agreed to despite a counter-threat from the French Directory warning that he should not be detained (stopped).
Last Years
Tandy remained in prison till April 1801, when he was tried, pleaded guilty, and was sentenced to death; he was reprieved and allowed to go to France. This leniency may have been partly due to doubts as to the legality of the demand for his surrender by the Hamburg authorities. Moreover, Napoleon vigorously intervened on his behalf, and is even said to have made Tandy's release a condition of signing the Treaty of Amiens. The way in which his name was introduced in the well-known ballad, "The Wearing of the Green", proves that he succeeded in capturing the popular imagination of many future rebels in Ireland. In France, where his release was regarded as a French diplomatic victory, he was received, in March 1802, as a person of distinction; and when he died his funeral was attended by the military and a large number of the general public.
Useful links:
Encyclopedia.com entry on Napper Tandy

_____________________________________________________________________________________________________________
History@Banagher College, Coláiste na Sionna.

The URI to TrackBack this entry is: http://teachnet.eu/tobrien/about/revolutions/revolution-in-ireland/james-napper-tandy/trackback/
on May 15, 2010 at 11:17 am phillip Said:

Great page

on May 31, 2010 at 8:10 pm joey Said:

the planning of the revolution is very interesting.funny pic , ugly looking lad.

on June 10, 2010 at 8:40 pm Niamh Said:

I always wondered what his actual involvement with the rebellion was!