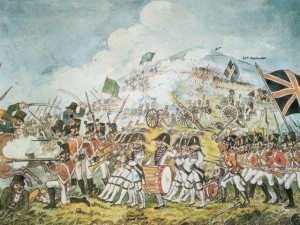 "From the blood of every one of the martyrs of the liberty of Ireland, will spring, I hope, thousands to revenge his fall."
-Wolfe Tone's diary, June 1798.
After the failure of General Hoche and Wolfe Tone to land a Fench fleet at Bantry Bay in 1796, the British – shocked by their lucky escape – decided to clamp down on the 'United Irishmen'. General Lake was sent to Ulster and given a free reign to torture and even execute, anybody found to be involved with the secret group. Some of the  tactics used to stamp out the United Irishmen included:
Floggings (whippings)
Half-hangings (hanging a person until they were almost dead to extract information)
Pitch-capping (pouring hot tar on a person's head before setting it on fire)
The newspaper of the United Irishmen, the Northern Star was banned.
Spies and informers were used to identify the leaders.
The results of this harsh treatment were that many of the United Irishmen's leaders were arrested (including Lord Edward Fitzgerald) and thousands of weapons were found. Despite this, plans continued to launch a rebellion; with the date 23 May 1798 finally agreed on.
In March 1798, British soldiers, yeomen and the North Cork militia entered Wexford. Their violent treatment of the locals created a determination to resist that led to a Catholic priest, Fr. John Murphy leading a revolt. They had victories at Oulart Hill, Eniscorthy and Wexford (where United Irishman Bagenal Harvey was freed from jail) before their growing army of 15,000 was defeated at the Battle of New Ross and finally routed at Vinegar Hill on 21 June. Some days later, both Bagenal Harvey and Fr. John Murphy were captured and executed.
Although Ulster had been a United Irishmen stronghold, after the intimidation, torture, jailings and executions in the province, support for the secret group weakened. Because of this, the rebellion that took place there (mainly consisting of Presbyterians) was small in comparison to Wexford. In June 1798, a rebellion led by Henry Joy McCracken succeeded in capturing Larne, Randalstown and Ballymena before being defeated after a fierce battle at Antrim town. In Down, Henry Munro led 7,000 rebels could not match the army's cannons at Ballynahinch. Both McCracken and Munro were later separately captured and hanged.
Connacht: In August 1798, the French General Humbert arrived in Killala, Co. Mayo. Despite not getting as much local support as he would have liked, he completely routed General Lake's men in what became known as the Races of Castlebar because the soldiers fled so quickly, leaving many of their weapons behind. Humbert was eventually defeated near Dublin by a reinforced British army led by General Lake and General Cornwallis. Although the captured French troops were allowed to return home, the captured Irish rebels were hanged.                                                                                                                                                                                                                                      
Not realising that Humbert's force had been defeated, another French force of 3,000 men landed in Lough Swilly with Wolfe Tone on board. They too were defeated; Wolfe Tone was captured and died a week after cutting his own throat with a penknife.
What went wrong?
A combination of informers and brutal tactics against the native population routed out and weakened the United Irishmen.
A lack of decent weapons meant that the rebels struggled when faced with the muskets and cannons of the British army.
A combination of inconsistent French support and bad luck meant that the rebels never got the strong international help that would have been necessary if they were going to be successful.
There is little doubt that the United Irishmen rebellion had been a failure. It led to the Act of Union (1801) that brought Ireland even closer to Britain by abolishing the parliament in Dublin and ruling Ireland directly from Westminister. Despite this, the sacrifices made by the men and women involved inspired many future generations including those involved in the 1916 Easter Rising and those who finally gained freedom for Ireland in the Irish War of Independence.

The URI to TrackBack this entry is: http://teachnet.eu/tobrien/about/revolutions/revolution-in-ireland/1798-rebellion/trackback/
on May 25, 2010 at 9:36 pm Eoin Egan Said:

i was very susprised to learn that wolfe tone had cut his own neck with a knife.Very interesting to know!