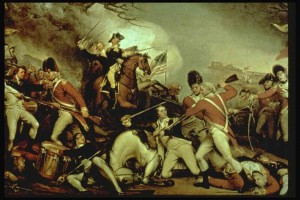 Following the increased tension caused by previous events like the range of new taxes, the Boston Massacre and the Boston Tea Party, representatives of the thirteen colonies met at the First Continental Congress in Philadelphia (September 1774) to decide how to deal with the situation. There was a huge amount of anger at the meeting. It was felt that force would be needed to remove British control of the colonies. Guns and ammunition were collected and each colony prepared to go to war.
The British Governor of Massachusetts, General Gage sent about 800 troops to Lexington where weapons belonging to a local militia were believed to be stored. Paul Revere ( a member of the Sons of Liberty) rode his horse through the night to warn the militia's members. When the British soldiers arrived at Lexington. they were ambushed by a small number of colonists. After retreating, they attacked and drove back the British at Concord. The American war of Independence had begun.
A Second Continental Congress met in May 1775. Here it was decided to organise the militias into an official army called the American Continental Army. George Washington was chosen to lead it. Within days, the new army was in heavy fighting with the British Red Coats at the 'Battle of Bunker Hill' where they were defeated after a tough battle.
Chronology of the War of Independence

1774. September 5. Continental Congress meets in Philadelphia. Boston Port Bill.
.
1775. April 19. Fight at Lexington and Concord.
May 10. Capture of Ticonderoga. Meeting of Second Continental Congress at Philadelphia.
1775. June 17. Battle of Bunker Hill.
December. Daniel Boone settles in Kentucky.
.
1776. July 4. Declaration of Independence.
August 27. Battle of Long Island.
December 26. Washington captures Hessians at Trenton.
.
1777. June 14. Flag of stars and stripes adopted by Congress.
September 11. Battle of Brandywine.
October 17. Surrender of Burgoyne.
Washington encamps at Valley Forge where Frederick Von Steuben arrives to help while Howe occupies Philadelphia.
.
1778. French-American alliance.
June 28. Battle of Monmouth.
December 29. British take Savannah.
.
1779. September 23. Naval victory of John Paul Jones.
.
1780. May 12. Charleston taken by British.
August 16. Battle of Camden.
October 7. Battle of King's Mountain.
.
1781. Adoption of the Articles of Confederation.
October 19. Surrender of Cornwallis at Yorktown.
.
1782. November 30. Preliminary treaty of peace.
.
1783. September 3. Final treaty of peace signed.
November 25. British army evacuates New York.
December 4. Washington's farewell to his officers.
…………………………………………………………………………………………………………………………………………………………………………………………………..
Life in the Continental Army
[youtube]http://www.youtube.com/watch?v=XuikXCpBlJ4[/youtube]
…………………………………………………………………………………………………………………………………………………………………………………………………..
History@Banagher College, Coláiste na Sionna.

The URI to TrackBack this entry is: http://teachnet.eu/tobrien/about/revolutions/the-american-revolution/war-of-independence/trackback/