This content was created/compiled by Martin Daly.
In Brief:
Lord Edward Fitzgerald was the son of the Duke of Leinster and fought with the British army in America. He later became interested in the ideas of The French Revolution and came to the conclusion that a similar revolution was needed in Ireland. He joined the United Irishmen. He spent 1797 organising a rebellion in Leinster but was betrayed by informers. He was warned to escape but refused and was caught after his hiding place was betrayed. He was shot during his arrest and died of his wounds in prison a few days later.
_____________________________________________________________________________________________________________
More information: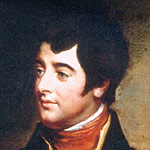 Edward Fitzgerald, was fifth son of the Duke of Leinster, was born in October 1763 at Carton house, Leixlip. Co Kildare.
The family was an important part of the Protestant Ascendancy and Edward was born to a life of luxury and privilege.
He was educated in blackrock, Co Dublin.
In 1797 he fought in the American War of Independence but was injured and was rescued by a black man called Tony, who remained a servant of Fitzgerald until he died.
Edward fell in love with cousin but was rejected her name was Gerorgina Lennox.
In 1789 he traveled to Canada where he crossed the entire country only by compass for direction. During the trip he became Huran Indians near Detroit.
He returned from Canada he became interested in the ideas of the French Revolution.
He travelled to Paris and me met Thomas Paine who wrote book called Common Sense that inspired the American Revolution in 1776.
He returned to Ireland and was convinced of the need for change in Ireland, he joined the United Irishmen and called for a Revolution against British rule.
Lord Edward Fitzgerald spend 1797 organising a rebellion in Leinster, but his plans were betrayed by a number of informers in the United Irishmen. His family were of important part of the Protestant Ascendancy.
He was warned to escape, but he refused.
On the 18th of May 1798 he was hiding in Dublin on Thomas Street and the address was given to Authorities by Francis Magan Catholic barrister. Fitzgerald was shot during his arrest and died of his wounds in prison a number of days later.
______________________________________________________________________________________________________________-
American War of Independence
Fitzgerald joined the British Army in 1779, he served on the staff of Lord Rawdon in the  American Revolutionary War. He was seriously wounded at the Battle of Eutaw Springs on 8 September 1781, his life being saved by a newly-liberated black slave named Tony Small ('Faithful Tony'), whom Lord Edward employed to the end of his life.
He was evacuated from Charleston, South Carolina in 1782 when the British forces abandoned the city.
Post-War Military Career
In 1783 FitzGerald returned to Ireland, where his brother, the 2nd Duke of Leinster, had procured his election to the Irish Parliament as a Member for Athy, a seat he held until 1790. He represented then Kildare County from 1790 to 1798. In Parliament he acted with the small Opposition Irish Patriot Party group led by Henry Grattan, but took no prominent part in debate. After spending a short time at Woolwich to complete his military education, he made a tour through Spain in 1787; and then, dejected by unrequited love for his cousin Georgina Lennox (who later married the 3rd Earl Bathurst), he sailed for New Brunswick to join the 54th Regiment with the rank of Major.
Explorer in the "New World"
The romantic temperament of the young Irishman found congenial soil in the wild surroundings of unexplored Canadian forests, and the enthusiasm thus engendered for the "natural" life of savagery may have been already fortified by study of  Rousseau's writings, for which at a later period Lord Edward expressed his admiration. In February 1789, guided by compass, he traversed the country, practically unknown to white men, from Fredericton, New Brunswick to Quebec, falling in with Indians by the way, with whom he fraternized; and in a subsequent expedition he was formally adopted at Detroit by the Bear tribe of Hurons as one of their chiefs, and made his way down the Mississippi to New Orleans, where he then returned to England.
Marries in France
His connections, together with his transatlantic experiences, predisposed Fitzgerald to sympathize with the doctrines of the French Revolution, which he embraced enthusiastically when he visited Paris in October 1792. He lodged with Thomas Paine and listened to the debates in the Convention. At a convivial gathering on the 18 November he supported a toast to "the speedy abolition of all hereditary titles and feudal distinctions", and gave proof of his zeal by expressly repudiating his own title, a performance for which he was dismissed from the army
While in Paris, FitzGerald became enamoured of a young girl whom he chanced to see at the theatre,Procuring an introduction he discovered her to be a protégé of Madame de Sillery, Comtesse de Genlis. The girls name was Pamela (1773–1831).On 27 December 1792 FitzGerald and Pamela were married at Tournay, one of the witnesses being Louis Philippe, afterwards King of the French; and in January 1793 the couple reached Dublin.
The couple eventually had a son, named Edward and two daughters, Pamela and Louisa. After her husband's death in Newgate Gaol, Dublin, Pamela, Lady Edward FitzGerald, was no longer welcome at Boyle Farm, the house of his brother Lord Henry FitzGerald in Thames Ditton. But her daughters found much happiness in the village, living with an aunt. After she died, her mortal remains were buried at St Nicholas Churchyard, Thames Ditton.
Return to Ireland
Ireland was by now seething with dissent which was finding a focus in the increasingly popular and revolutionary Society of the United Irishmen who had been forced underground by the outbreak of war between France and Britain in 1793. Lord Edward FitzGerald, fresh from the gallery of the Convention in Paris, returned to his seat in the Irish Parliament and immediately sprang to their defence but within a week of his return he was ordered into custody and required to apologise at the bar of the House of Commons for violently denouncing in the House a Government proclamation, which Grattan had approved. However, it was not until 1796 that he joined the United Irishmen, who by now had given up as hopeless the path of constitutional reform and whose aim after the recall of Lord FitzWilliam in 1795 was nothing less than the establishment of an independent Irish republic.
Revolutionary activities
In May 1796 Theobald Wolfe Tone was in Paris endeavoring to obtain French assistance for an insurrection in Ireland. In the same month FitzGerald and his friend Arthur O'Connor proceeded to Hamburg, where they opened negotiations with the Directory through Reinhard, French minister to the Hanseatic towns. The Duke of York, meeting Pamela at Devonshire House on her way through London with her husband, had told her that "all was known" about his plans, and advised her to persuade him not to go abroad. Also, in Hamburg Lord Edward met with Johan Anders Jägerhorn (or baron de Spurila, as he called himself), a Finnish Swede who had advocated Finnish autonomy and now acted as an intermediary between Lord Edward and the French.
The proceedings of the conspirators at Hamburg were made known to the government in London by an informer, Samuel Turner. Pamela was entrusted with all her husband's secrets and took an active part in furthering his designs; and she appears to have fully deserved the confidence placed in her, though there is reason to suppose that at times she counselled prudence. The result of the Hamburg negotiations was General Hoche's abortive expedition to Bantry Bay in December 1796.
In September 1797 the Government learnt from the informer MacNally that Lord Edward was among those directing the conspiracy of the United Irishmen, which was now quickly maturing. He was specially concerned with the military organisation, in which he held the post of colonel of the Kildare regiment and head of the military committee. He had papers showing that men were ready to rise. They possessed some arms, but the supply was insufficient, and the leaders were hoping for a French invasion to make good the deficiency and to give support to a popular uprising. But French help proving dilatory and uncertain, the rebel leaders in Ireland were divided in opinion as to the expediency of taking the field without waiting for foreign aid. Lord Edward was among the advocates of the bolder course and there is some evidence that he favoured a project for the massacre of the Irish peers while in procession to the House of Lords for the trial of Lord Kingston in May 1798, despite the fact many were his own relations
Net tightens
It was probably abhorrence of such measures that converted Thomas Reynolds from a conspirator to an informer; at all events, by him and several others the authorities were kept posted in what was going on, though lack of evidence produced in court delayed the arrest of the ringleaders. But on the 12 March 1798 Reynolds's information led to the seizure of a number of conspirators at the house of Oliver Bond. Lord Edward FitzGerald, warned by Reynolds, was not among them.
As a fellow member of the Ascendancy class, the Government were anxious to make an exception for FitzGerald, and also avoid the embarrassing and dangerous consequences of his subversive activities, communicating their willingness to spare him from the normal fate meted out to "traitors". The Lord Chancellor, Lord Clare, said to a member of his family, "for God's sake get this young man out of the country; the ports shall be thrown open, and no hindrance whatever offered."
FitzGerald however refused to desert others who could not escape, and whom he had himself led into danger. On 30 March the government proclamation of martial law authorising the military to act as they saw fit to crush the United Irishmen, led to a campaign of vicious brutality in many parts of the country, and forced the United Irish executive to bring forward plans for the rising, with or without French aid.
Arrest and Death
Arrest of Lord Edward FitzGerald
The capture of Lord Edward FitzGerald, the most dangerous United Irish leader still at liberty, was now the top priority of Dublin Castle and on 9 May a reward of £1,000 was offered for his apprehension. Since the arrests at Bond's, FitzGerald had been in hiding, but had twice visited his wife in disguise and was himself visited by his stepfather. Meanwhile, the date for the rising was finally fixed for 23 May and Fitzgerald awaited the day hiding in a house in Thomas Street, Dublin.
However, his hiding place was disclosed by a Catholic barrister and informer named Magan and on 18 May Town Major Henry C. Sirr led a military party to the house where Lord Edward was in bed suffering from a fever. Alerted by the commotion, he jumped out of bed and, ignoring the pleas of the arresting officers Major Swan and Captain Ryan to surrender peacefully, FitzGerald stabbed Swan and mortally wounded Ryan with a dagger in a desperate attempt to escape. He was only secured after Sirr shot him in the shoulder and was beaten unconscious by the rifle butts of the soldiers.
He was conveyed to Newgate Prison, Dublin where he was denied proper medical treatment. At the age of 34 he died of his wounds as the rebellion raged outside on the 4 June 1798. He was buried the next day in the cemetery of St Werburgh's Church, Dublin. An Act of Attainder confiscating his property was passed, but was eventually repealed in 1819.
Shortly after his death, Lord Edward's sister, Lady Lucy FitzGerald, authored the following statement regarding her brother's fidelity to Ireland: Irishmen, Countrymen, it is Edward FitzGerald's sister who addresses you: it is a woman but that woman is his sister: she would therefore die for you as he did. I don't mean to remind you of what he did for you. 'Twas no more than his duty. Without ambition he resigned every blessing this world could afford to be of use to you, to his Countrymen whom he loved better than himself, but in this he did no more than his duty; he was a Paddy and no more; he desired no other title than this.
_____________________________________________________________________________________________________________
History@Banagher College, Coláiste na Sionna.


The URI to TrackBack this entry is: http://teachnet.eu/tobrien/about/revolutions/revolution-in-ireland/lord-edward-fitzgerlad/trackback/
on May 23, 2010 at 10:31 pm barry egan Said:

great work!!!!!!!
i didnt know he was denied proper medical treatment after his arrest!!!!!!