Posted by:
smdp6thclass
in
Uncategorized
, tags:
art
,
battle
,
feathers
,
war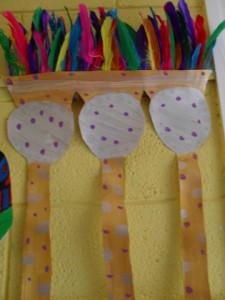 The Aztecs fought many wars. Without these wars, the Aztec state would have collapsed. War gave the Aztecs new land, people and resources. It made them powerful.
Soldiers in an Aztec army were just the ordinary people. They were often quite young too. These  boys in the Aztec World  were forced to join the army for fighting in war and battles at a very young age. They wore armors to protect them. Every boy was trained to fight and he only became a man after he had captured his first prisoner.
War was important for honouring the Gods. A prisoner was important cause he could be used as sacrifice!
To learn about what it would have been like for a young Aztec boy to get ready for battle, we made the armors that the Aztecs wore.  We worked  in two's  and made an armor each between us, we painted it first, then we left it to dry, then the next day we stuck colourful feathers on them.
 We learned that the Aztecs used Spears and Iances as weapons not to protect but to kill.  They made them with a lack of metal and wood, they also wore a suit called Ichcahuipilli. We used the Internet and Google images to get ideas for how the armour looked.
An Aztec battle would not have been a nice place to be and it would've been a lot different to our lives today!
By Hero & Rubine